May. 15, 2023
Dear Friend,
For more than five decades, the National Immigration Project has been an anchor in the immigrant rights movement, providing critical legal support to a vibrant nationwide network of over 2,000 legal experts, advocates, immigrant groups, students, citizens and noncitizens alike. In short, people like you, who care deeply about immigrants and immigrant rights.
That's 52 years of swimming upstream with an unwavering commitment to advancing and defending the rights of all immigrants. We are proud of what we have accomplished, and aware of how much remains to be done. 
Can we count on you to help strengthen our work?
In the face of changing political landscapes, our organization  provides a solid foundation and a critical consistency that enable communities to keep fighting, especially when rights are under assault. Together with you, we are part of the larger force for justice and legal reform—a critical, long-haul struggle.
Now we need your help to continue to push for necessary changes. 
Our client Vanessa, for example, left the United States under duress while she was being detained at the Irwin County Detention Center in Georgia. At Irwin, Vanessa was subjected to medical abuse, including non-consensual gynecological procedures. We successfully filed a motion to reopen Vanessa's case, but DHS moved to close her proceedings, and the case was dismissed. Despite being subjected to family separation, Vanessa continues to be denied the opportunity to come home. 
In Louisiana, our staff is partnering with a small band of attorneys and advocates to provide support and assistance to immigrants being held behind bars. Louisiana is  home to an enormous detained immigrant population. Migrants are often held in huge prisons located in isolated rural areas, and they do not know their rights or have access to legal representation. Our staff has conducted regular visits to these facilities to educate people about their options, provide representation in some cases, and to connect people to attorneys where possible.
Together we have had recent successes in shuttering detention centers, in disentangling ICE from local law enforcement, and in individual case campaigns around the country. These wins at the local and state level not only provide immediate safety and protection for immigrants, they provide us with a roadmap for other localities to follow, and guideposts for strengthening our movement.
In these challenging times for immigrants and for our movement, the demand for technical assistance, expertise, training, publications, litigation, legal support, and community advocacy is as strong as ever. 
Please help bolster the National Immigration Project's fight for justice today with a generous gift. We hope to hear from you soon. Together, we will continue the fight for humanity, and anchor the movement.
Your financial support propels our success.
With gratitude, 
Image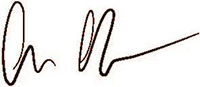 Sirine Shebaya
Executive Director 
p.s. We could not press the government for needed reforms, including Biden's new asylum ban,  if we solicited or accepted government money. That's why we rely on the generosity of individual contributors like you. Thank you for giving what you can right now.